There's a schizophrenic guy who comes to the junk store every few months who buys tons of vinyl, I'm not a big talker so I like the way he comes in and I just say hi and he'll go into these endless deep crazy religious rants from clues around him. For instance, he thinks the song American Woman by the Guess Who is Gods way of warning America that the end times are coming he also said that he found his salvation in a Playboy magazine fold out who's middle name is the same as his and calls it a divine calling. I'm jealous of him since his so happy and overly pleasant. Even though he has a way of emptying the store of people when he walks in. But I do take issue on his on his braggart drama queen delusions of grandeur statements that pepper his speeches. He has veins on his arm that if you use your imagination look like an H and a V which he sees as him being a prophet destine for heaven. I think he might be channeling 6 time British golf open winner pro Harry Vardon. He also boasts that he sings just like the Beatles and I'm going to have him sing Let It Be next time he shows up.
Anyway I ran into him at an estate sale and his people removing effect worked there too. I almost felt sorry for the woman running it having to fain interest in his Waldorf word salad. But the good thing is once the people left it was just him and me and since I've built up immunity to his ways I just sat back and enjoyed the ride in a nearly vacant sale. I just may bring him with me every week and he can clear out the sales leaving me to all the good stuff before the pickers rape it clean.
This week I found a cool combination 8 track demagnetizer cleaner cart that plugs into the wall. If only they could make one that repaired those broken splices too I'd be so onboard. I did make the mistake of not turning down the volume on the player when I was cleaning it and heard a loud buzzinging noise that was like pre-feedback on a pa system. It still sounded better than the Rod Steward Do You Think I'm Sexy tape that was in the player before.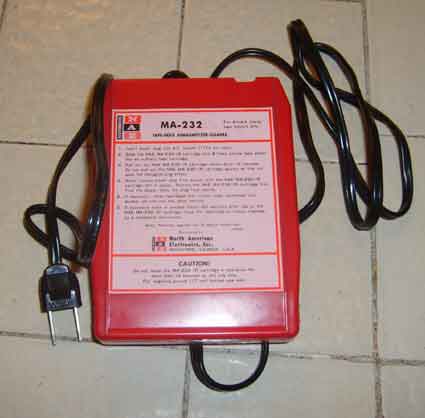 Posted by gregg-n at 7:53 AM PST
Updated: Monday, 5 December 2011 7:56 AM PST