Since CDs are the new 8 Tracks, 8 Tracks are the new player piano rolls and are a rare find indeed, I don't see them at thrift stores any more which is Ok since I think they'd be displaced like rare diamonds in the glass shelf with a double digit price tag. I'm glad I hoarded my secret stash in the bunker waiting for the rapture with the soundtrack to Grease.
This week however I was surprised and awed by nabbing this colorful portable Portiplay Realistic Am/Fm tape player, that is becoming more relicesque now that Radio Shack is on it's last leg. It might be the closest we get to one of those urban boom boxes that were big in the 70's and 80's and rests on your shoulder well for the best effect.
I got an early in on the Great Penninsula Historical Society Sale this weekend so I've become a thrift store player in this town, nice but I don't see me getting prefered customer discounts at Good Will too soon.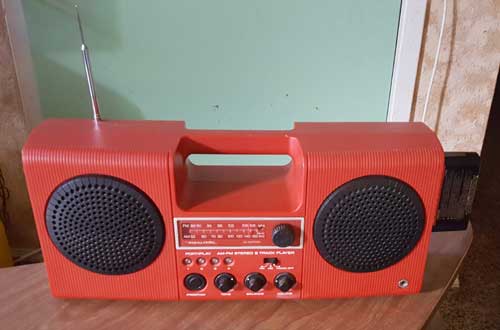 Posted by gregg-n at 12:54 PM PDT