April 16, 2006
One of my hobbies within a hobby is collecting singing celebrities on 8 track. Like 8 tracks theyíre talent has become obsolete and except for something tongue and cheek like that Golden Throats series about 10 years ago none of this stuff is going to comeback. By nature they are quick cash ins and rarely last more than 2 records. I consider these ďrealĒ celebrity recordings since now every talentless singer can go the Backstreet Boys route and sound like expensive scotch. I understand back then Patty Duke had scores of takes where her vocals were patched together so she could sound like a Frankenstein Leslie Gore. Even 70ís butter boy Leif Garrett channeling the Beach Boys has a unmistakably echo chamber feel to it.
I also like the idea is a good deal of these singers are well into their 30s if not older and appealed to the menopausal crowd. In a world where films are measure by the amount of money they make in the first week that cater to 16 year old boys itís refreshing to know that there was once commercial potential on someone who had to shave everyday.
My Favorite is Richard Harris, who I think works so well because he hooked up with Jimmy Webb in his top form. This was around the time he wrote for Glen Campbell creating future easy listening radio staples like Wichita Lineman and By The Time I Get To Phoenix. Itís almost like if Burt Bacharach after composing for Dionne Warwick took time off and wrote for Danny Bonaduce. His Tape titled A Tramp Shining is a surreal experience where the arrangements are almost as kooky as the lyrics. Everyone loves or hates Macarthur Park but his song Paper Chase works me into a lather and his song Didnít We was even covered by Sinatra. Most gave up on him after this tape but his next tape The Yard Went On ForeverÖ pushes the envelope even further with The Hive that is derived from Macarthur Park and often surpassed it in itís extreme composition.
Other favorites of mine are Telly Savalas who sounds more like William Shatner talking through the songs and making them work, his version of How Insensitive is great make out music, believe you me. John Travolta is similar in style but he tries to sing and his weak voice only sounds like heís talking but I canít forgive him for rhyming Razzamatazz with All of That Jazz. Every time he hits the talk show circuit the audience begs him to dance but I want to hear him sing Let Her In just one more time. David Soul is also in this genre with his easy listening tune Donít Give Up On Us Baby,
John Schneider from the Dukes of Hazard is a strange exception since that show was on in the 70ís and I have an 8 track tape from him titled A Memory Like You that was released in 1985! I have to admit I havenít listened to it yet, probably because the very first song is named - Whatís A Memory Like You (Doing in A Love Like This) it makes Hallmark sound like Shakespeare and I got it in a huge country music lot which IĎm not a big fan of.
I have a soft spot for the Brady Bunch since they were NSYNC with their brand of choreographed dancing. They sound just like they do on TV, if only they used an echo chamber theyíd would have been taken more seriously.
I guess the last singing actor on 8 track was Bruce Willis with is Return of Bruno Tape. I have it and when I was touring Europe the time it was released his song Under The Boardwalk was in the British top 10 and respectfully played on radio stations. He use to sing Motown as a joke on his first series Moonlighting and somehow got a record deal. I think he stopped talking himself as a singer seriously when he was at a Billy Joel concert and asked Billy if he could sit in on a few songs, Billy declined his invite and Iím still waiting for the Return of the Return of Bruno.
On an unrelated note, I took down the shrine today, among the flowers and photos were liters and liters of unopened Diet Coke (Her favorite beverage, and mine too.) on a weak moment I drank one and took a few home, is that sacrilege?
April 21, 2006
My latest fun tape is this homemade minor label hybrid titled Dance Along with Erv featuring the That organ grinder Erv Johnson going to town on a Yamaha. The label looks like it was printed on a cheap computer and pasted on a Radio Shack cartridge. The company (Probably Erv's wife) is called Happiness Music tapes who is also thoughtful enough to paste a gold sticker on the back that says "It's possible tape may end in middle of last song THIS IS NORMAL." I wonder if this was brought on by 8 track newbies demanding their money back for this less than complete tape.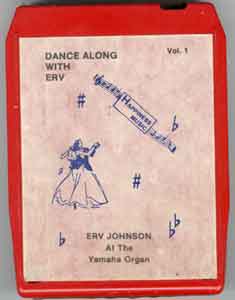 When I was a kid and went through the rite of passage of hanging out at the mall since I had nothing better to do there was a small store completely vacant except for one of those large organs where any no talent idiot could press a key for rhythm and play a one finger "masterpiece". With the right beat even chopsticks sounded like Bach. I bet this tape was sold along with the organ in these shops.
The songs on it span many decades so grandma and her daughter can listen to such stapes as Let Me Call You Sweetheart and Bad Bad Leroy Brown. I'm happy to report that this Vol 1 of the collection so now my reason to live is to unearth Vol 2 and beyond.
April 28, 2006
Today I found a case of 8 track tapes in various states of decay as you can see. So I thought I'd turn it into a game, can you guess the artist and the title by these carts?
The Answer to A
The Answer to B
The Answer to C
How many did you get right? Today I'll be playing the label less hoping to find gold or at least an obscure ELO tape
May 7, 2006
Yesterday I found one of those Yorx (It sounds like a hip hop band) players that is a combination alarm clock, radio, cassette, 8 track player console that even has a jack to plug in a phonograph into. It's 6 inches tall by 11 inch long and quite portable. I was hoping the alarm could be set so the 8 track plays but it only works with the radio and a loud beeping noise. My brain has a build in alarm clock and even when I set them I wake up 5 min before they go off so I may keep it for a prop.
Yesterday at the junk store one of those regular customers that I love so much came in with his car stuffed with garbage looking like a modern day version of that guy with the mule driven cart on the comic Gasoline Alley. He asked me if I needed anything and I told him jewelry is always a big seller so he went back into his car while his girlfriend was left in the shop sipping her Big Gulp obviously refilled with beer. After 10 mins he screamed at his girlfriend and called her a c**t and asked her who will her next victim be. I took the opportunity not to become involved and headed back to the garage to clean up. Half and hour later he came back with crappy gumball machine rings and such and said his girlfriend stole his expensive vintage costume jewelry and replaced it with wood wrapped around tissue. Then went on how you can't trust anyone in this town and pulled out a gun and said "That's why I carry this." I then asked him to leave and saw him dump his chick's belongings on the side of the road and drove off without her. I wonder if Goodwill gets issues like this on a semi regular basis?
Since this page was cutting edge in 1999 I decided to try an experiment and update it on the slimmer trimmer blog format so let's try it here