July 13,2003
I've been putty in fate's hand lately and looks like I'll be moving soon, the ironic part is I'll be back to where I came from, either Seqium or Port Angeles. It seemed it took me forever to get out of there and now the way things have soured I'm looking forward to my previous life of the Unabomber I had over there. Its a lot like that last episode of MASH where Klinger stayed in Korea but I don't wear dresses. Should be there before Autumn
August 19, 2003
Here are the casualties of last weeks heat wave. After a few hours in a parking lot the shells look like potato chips, no stellar losses but while the car turned into a kiln the belt on the player also deteriorated and I've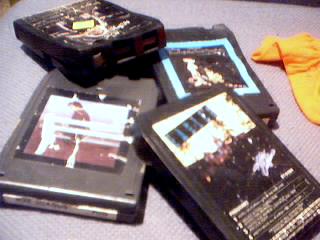 replaced it with an old one about as functional as a rubber band that is real picky on what I get to hear unless I like to listen it a 16 rpm phonograph record. Right now I'm getting packed for the move so grabbing a handful of "road tapes" is like walking into a storage locker and playing "guess which box has the 8 tracks". The new place has a work room that will soon be a media room in the blue collar town of Port Angeles which is a ferry ride to Canada the land of yellow shelled tapes (ever seen one of those?).
Gosh, I wonder if I get the same feeling of lose when I snap a tape that a peroxide airhead blonde girl gets when she breaks a nail.
August 25, 2003
I've been noticing that whenever I make any kind of reference to anything in this journal my free web server tripod puts an ad for it at the bottom of the page and I think I should get a cut of what anyone buys. Today on the bottom of this page there's an ad for real estate in Port Angeles and Sequim. If anyone moves there from what they've read in this journal I don't think I'd want to meet them. Hmm today might be a good day to ENLARGE YOUR PENIS, I'll be moving up there from Olympia tomorrow so look for a U haul on the road after you ENLARGE YOUR PENIS, oh well I better finish packing boxes.
September 7, 2003
I made it and it's like a removing a bookmark from my former life, this place hasn't changed one iota. A dollar goes farther here for housing and now I have an entire wing for 8 tracks and LPs and still have 2 vacant rooms. One room I inherited is painted in a Pepto Bismo pink and is being made ultra cute. I was trying to expand my cute vocabulary beyond Hello Kitty and unicorns but when I go to Google and enter in "cute" it's all vial pornography that wouldn't look very good in that room, any suggestions? Hit the yard sales on Friday and a venerable old woman sold me a car player and went in her shed to retrieve tapes and they were all hard rocken with the whole Black Sabbath catalog in a case. I was hoping to find a crocheted pentagram but was happy to add that to my once again expanding tape empire, it's good to be back.
September 23, 2003
I was at a garage sale in a back room full of fruit and one of the items being sold was a JC Penny Player with a sign that said $100 or best offer. I wasnít in a smarted assed mood so I didnít ask if they would take a dollar for the system. I often wonder how the logical process works in coming to these totals. Like some middle aged woman tests out a player and finds out it works and because itís a relic a c- note is the going rate. Are there any other audio forms going for this much? I still can find those old Victrolas with the horn shaped speakers for half that on a good day ( of course these are in questionable condition). What I am sort of eyeing are those heavy wooden self contained consoles that have a record player, 8 track, radio and sometimes a TV that cover half the wall. I see these regularly and you can get them less than 20 bucks. The only drawback is usually the phonograph is missing a needle and Iím not that enthused to scourge around this peninsula for a new one, I can wait.
One thing I like about this place is everyone is retro without wanting to be. An estate sale is like walking into a 70ís museum and no one thinks nothing unusual about pole lighting, Knoll chairs, and even resin grapes on the coffee table. Iíve never seen so many lazy boy recliners I wonder if people collect them like stamps. Thereís a major bridge that goes over the canal to this area which in a few years will be shut down for repairs I hope it isolates this place even further and it develops its own accent.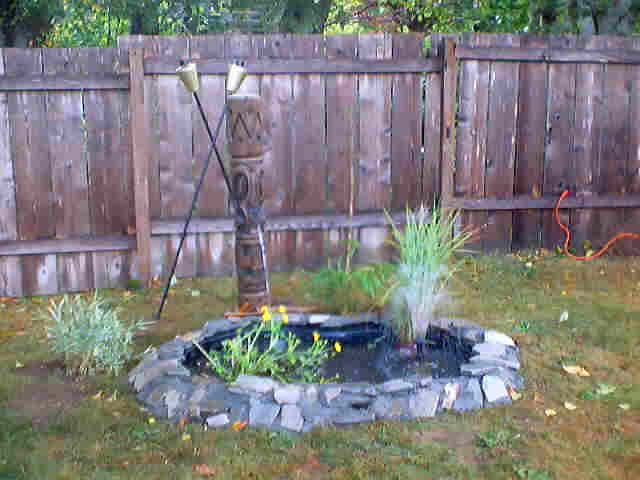 Anyone know if that Pia Zadora's The "Clapping Song" is available on 8 track? I can't take the Aaron Carter version anymore.
Like my tiki fountain?
September 28, 2003
This weekend has been one of excess and ecstasy, as I predicted last week I found my heavy wooden combination radio, phonograph, 8 track player all in one that is now snug against the east wall of my abode. What made it a done deal was the 8 track player also plays quads so no more speaker wires to trip over on each corner. My philosophy to speakers is that they are best heard and not seen so everyone I have is either hidden under a bed or has an unusual non speaker like shape to it ( Why donĎt they make speakers like this anymore?). But this walnut colored box has solved that problem. Itís been on for 8 hours straight and my only regret is it doesnít have a built in TV.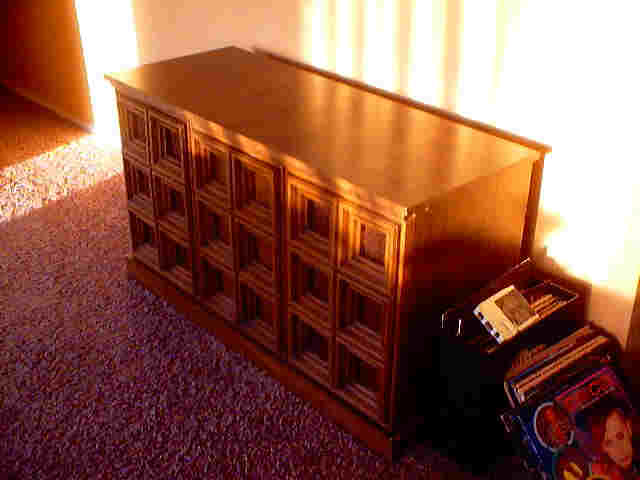 The other score this weekend is a work in progress I hope to get up by this weekend. For $200 I snatched a The Hollywood edition of a California King waterbed in full glory. Yesterday I picked up all I could stuff in the Ĺ ton truck and I still have to go back this week for the head board. Itís in pieced and my words wonít do justice but what weíre looking at is a waterbed that has a mattress that any center in the NBA could stretch out in all surrounded by a 4 poster frame that has 8 drawers under the mattress, the canopy is mirrored so now Iíll be able to shave in bed (something Iíve been wanting to do for a long time.). Also the headboard is like a spare room. Once I haul it here I plan on putting in an 8 track player, a mini TV and a wet bar. The thing takes up most of the bedroom but I hope I have room for some ferns held in place with a macramť plant holder.
This house was built in 1978 and the last owners decided to modernize it with a few additions but now Iím slowly returning it to itís former glory. One day I hope to give tours of this period house the same way this town plays up itís Victorian roots with period dress and walking tours of the ďfiner homesĒ complete with vintage fixtures and art on the walls. I already have a leisure suit.
All this and I met a local artist at a party the night before who will one day become a lady, he has a note from a psychologist so he can use the women's bathroom. He has quite the interesting life and even has a wife. http://robertawesterberg.com/ The way everyone I met there was passing out business cards with urls made me want to get one going pushing this page, then maybe Google would have me listed in there 3 billion + index under 8 tracks.
October 5, 2003
A friend of mine is house sitting a mile from my humble abode and I got a dinner invite last night. The best thing about house sitting is its like a free hotel stay and you have the right to snoop in your host closets while theyíre gone. I think they expect that the same way you'd expect Motley Crew to trash a hotel room. Anyway, this house was something straight out of the 1920s with a good chunk of the income spend on everything Deco. It was one of those houses that if your mother owned it the whole living room would be incased in plastic since sitting on the couch might soil it (I went through 6 months of this as a kid and looking back I now question my mothers sanity). I loved the way everything there was chrome and hulking, for example no one is allowed to smoke in the house but right next to the couch is a 30 pound ashtray you have to watch out not to trip over. With the wind up phonograph in the bedroom I felt like I was in the set of a Marx Brothers movie then it dawned on me that these people are doing the same thing that I am but their decade of choice is the 20ís while Iím happy with the late 60s and early 70s and while people call my big eyed Keane art kitsch (at least to my face) I maybe able to make an argument about that super sized ashtray. Also, itís a complete contrast that a lot of the furniture there could be found in the pages of a Sothebyís catalog and my couch was thrifted at Saint Vincent DePaul's. It validated my existence and made me feel like a white trash connoisseur, I hope to see a Panasonic Pump at a respectable auction house in 10 years.
October 9, 2003
WATERBED UPDATE - The bed is now assembled! In heaven they all sing! Still waiting on a pad for the bladder so I can use it but it stands in all its Goth glory or maybe a companion to Elvis' Jungle room. The consensus from visitors seems to be that this is a "Do me now!" bed so instead of playing this down I've decided to play it up with a hanging fake fern plant, fake fur accent rugs, lights on a dimming switch and I've been scanning ebay for movie posters from x rated films from the early 70's. Most of these are of soft porn quality where the most you see is a bare boob or a generously displayed ass, and compared to the modern porn star these girls have a fresh faced almost Manson Family look to them. These seem so innocent compared to the posters that decorate adult video stores today that appeal to gynecologists or apprentices of breast implants. I got the 8 track player on the headboard and am working on some sleazy make out ditties from the 70's Here's what I have so far for the compilation tape and any suggestions are welcome...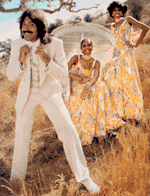 Donna Summer-Love To Love You Baby
BT Express- Do It 'Till You're Satisfied
Luther Vandross- Love Won't Let Me Wait
Andrea True Connection- More, More, More
Lou Reed- Take A Walk On The Wild Side
Jose Felisiano - Light My Fire
Rod Steward- Do You Think I'm Sexy?
Loves Theme- Love Unlimited Orchestra
I can't wait until Saturday night to try it out, hubba hubba!
October 15, 2003
I was at the used furniture store across from Wal-Mart yesterday doing the usually rounds. Most of shops like this get their stock weekly and often the unsold chairs that you see at yard sales end up as their inventory and I get a kick on seeing the markups and wonder if anyone would pay $80 for a Barclay lounger that smells like cat piss. I was about to leave when I saw a box the size of a microwave oven on the counter filled with 8 tracks. This was about out of place as finding produce at The Bon Marche and rather then questioning this occurrence I made tracks to that box and my zeal brought the owner out and he told me he liked 8 tracks to and took the box from me and was getting first dibs on these tapes before passing the tapes he didnít want for me to scrutinize. He was all giddy grabbing and bragging about such ďhotĒ artists as Bobby Vinton and The Platters and passed on to me such gems as The Beach Boys Pet Sounds and The Passions So Tough on a double tape along with 5 more early Beach Boys tapes. He also filled in the gaps of my Beatles tapes, now all I need is Rarities. With a bunch of Kiss and Doors I ended up spending $20 on tapes that went for $.50 each. Later I found out he sells on Ebay and pulled out a Beatles Lp that with graffiti all over it and the cover completely split all around and was proud of his find and his pupils were replaced with dollar signs. I didnít have the heart to tell him that this record is probably worth about as much as the listing fee would be.
It was my first major 8 track score since I moved here and now that I have a back room to keep the tapes in instead of tossing them in an empty washing machine box like my last overcrowded house collecting is fun again.
October 23, 2003
I went to the ribbon cutting of Goodwill in Port Townsend and it was quite the gala affair. The parking lot was overflowing and I ended up walking an eighth of a mile to the entrance. I was 10 min early and caught the speech by the manager along with every kook in town. The blue blood Victorian women were there in their floppy hats and purple gowns ripe for the photo op. Even the mayor got on his soapbox for this one giving Goodwill Industrials all the accolades that they surely deserve, I had trouble keeping a straight face. Once the ribbon was cut even the seldom handled wicker plant holders were not safe. I was so caught up in the spectacle I didn't buy a thing but eves dropped on Goodwill's elite and they said that they got the building as a donation, that must be a record for biggest contribution. For any regional thrifters this place has the same floor plan as the Tacoma Goodwill with all that "We want this to be an upscale dept store" I may start believing this once they stop selling all the used underwear. Sadly, there wasn't a single 8 track tape to thrift so I consoled myself on the way back stopping at an isolated thrift where I was the only customer and got a Stevie Nicks tape and the sound track to Liberace's Sincerely Yours on vinyl for a whole buck.
October 26, 2003
I met a fellow traveler at a yard sale today. When I got to his garage I notice he was a radio and old car buff and had a Model T and Cadillac preserved in the driveway like sealed action figures. I saw a small stack of a 8 tracks and lured to them like a bee to a flower. I had a good handful and he approached me and said he had several hundred of them and I told him I have about 1000 cluttering my life. Next, he gave me a quickie tour while his wife minded the store. His tapes were the garden variety with probably the entire Elton John catalog but what had me salivating was the amount of players he owned and all stacked up like a religious temple. I spied an Akai, a nice Pioneer player and a few Realistic consoles. His portables weren't the funky 70s typed but looked like the heavy duty type could be taken overseas the Iraq and still work. He did lose points for telling me that when his splices break he just tosses out the tapes and I quickly educated him on the virtues of sensing foil replacement and how "Every Tape is Sacred". The big kick was eventually other browsers hit that sale and were oohing and ahhing over his classic cars and he acknowledged them and quickly dismissed them with nods so he could get back to me and silly 8 track tapes. We may have to start a secret brotherhood here.
I'm working on a bordello installation for the Elks club this Halloween. This guy is doing the video for the whole thing but I have 3 tv sets and freedom to make a montage, 8 tracks will be represented if Russ Forster doesn't sue for any copy write infringements.
November 17, 2003
That Halloween bash was all consuming and the last two weeks were spent there and several after hours parties. It's not easy to hit a yard sales when you're either still drunk from the night before or you head feels like someone just beat you up so I stayed home with an ice bag on my head and wishing I took the ferry to Canada the week before to smuggle some of that useful Tylenol laced with codeine (a hangovers best friend). I live so close to the border that my TV only picks up Canadian shows and I haven't seen a US news show since I've been up here. I'm not big on TV but it really is a kinder and gentler nation with a lot of American sit coms and and even Seattle football. One day I'll have to learn the name of the Canadian Prime minister. Last night on the Simpson's they all linked arms and sang Oh Canada and it was the closest feeling I had to any sort of nationalism in a long time.
Nothing too ironic about 8 tracks as of late, no I take that back I did get a very easy listening tape last week and on that tacky Barry Manilow song "I Write The Songs" The writing credit was given to Bruce Springstein ! ? I wonder if The Boss has some skeletons in his closet. Also I saw a beat up portable player at Goodwill that I was going to comeback for in a day or so when I get $6 but an inconsiderate old woman push me out of the way and did a half assed pirouette snatched it. Talk about zeal, I should have introduced myself.
December 2, 2003
I would have updated much sooner but my server and this free page where having dueling DSN servers and 2 weeks later the journal continues.
Like most towns at 8:45 am every morning there is a gang of ebayers, antique shop owners, and hangers on queue up to the door of Goodwill waiting for the zero hour when the doors are open and the race to the knick knack section. At my Goodwill there is a huge clock next door that chimes 9 time before they begin, you get the idea. Anyway, last week one of the regulars who has a fondness for tools and electronics was doing his rounds when a blue haired woman went into his cart and took out his CD player and started testing it. When "Toolman" returned to his cart he told her to give it back and she pulled a fit and did the "well I didn't want it anyway" bit and says she takes things out of carts all the time. It gets better, a few minutes later she said her CD was in the player and demanded he give it back so he started giving her The "here's your damn CD" bit. Then her companion jumped in and Tooldude went back and fourth with him and asked him to step outside. being about 15 years older and 50 pounds lighter he pussed out and Toolman was feeling his oats and bought the prized player. Later I was told he got a call from the cops and it looks like he now has a restraining order on him from that couple. I'm waiting for them to go there and and watch him get arrested for thrifting. Who says nothing ever happens at Goodwill? I can see it now, once he's locked away I'll have less competition for ebay. One down 6 to go, maybe I can hire this couple to harass other people.
December 10, 2003
I unearthed a strange cartridge this week that has kept me entertained and in a toe tapping frenzy during cross town jaunts. Called "Disco Italiano". I consider this to be the missing link between disco and the always out of style Eurotrash sound and best of all I think it's made by studio musicians in America. It reminds me of Martin Denny or Arthur Lyman music that created "exotic" music in the 60s for people who have never heard the sounds of those far away lands. Italy was never like this but who cares. All the songs are popular Italian American Standards set to a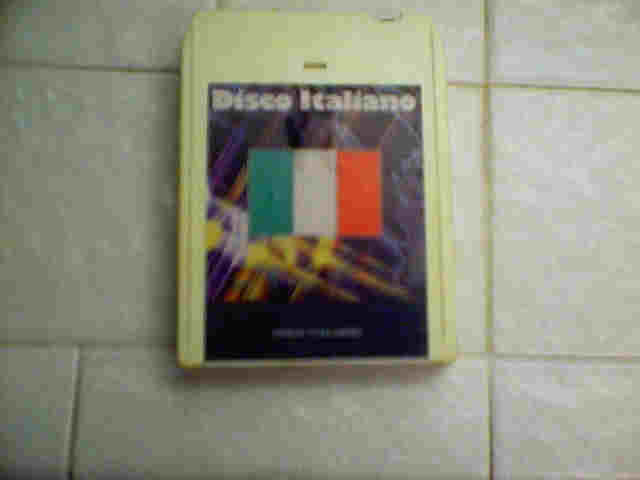 programmed disco dance beat like Vorlare and the Theme From the Godfather. My favorite is The theme from Mondo Cane put to disco, I'll have to bring this to play at my next wedding. I'm hoping this label has put out an all ethnic disco theme in its catalog and will find Disco Deutschland or Disco USSR, I have a few Belly Dancing 8 tracks and they almost get the job done too.
December 17, 2003
Buying 8 track accessories on Ebay isn't the necessary evil that it use to be. As long as you don't absolutely have to have a Panasonic Pump or any player that ends with "---tron" you can find some good bargains- and always insist on media mail. I'm happily surprised when tapes that a few years back I got out bid on by $20 now have a buy it now price for $10, I just can't enjoy a tape that I didn't get a deal on it and in good conscience can't pay more than $5 for all but maybe 5 tapes in the 8 track world (I'll work on a list of those five for a future update). One anomaly, that I recently discovered is the current state of our old friend Radio Shack sensing foil. Any serious tape collector lives by this stuff and there has been a lot of ink in the newsgroups on preferences (muffler tape, air conditioner tape) and if you can get your hand on a few copies of the defunct 8 Track Mind zine, you can read about success with chewing gum foil). Anyway, why I brought this up is the old stand buy has been going for about $20 a roll. I have loads of this stuff that I'll never use in 3 lifetimes and am wondering if I should take the money and run and list it and go on a trip or play it conservative and wait. Any bets when Radio Shack stands up and takes notice and starts reselling this stuff?
I'm thinking of including a special section including my tiki memorabilia hobby on this

web page. I may get thrown out of the 8 track web ring but as anyone who goes to the main page will see with the stray html at the bottom that link does nothing but conflict with this page and the instructions to fix it don't work. I'm thinking of getting a job since when ever I get involved in kinship groups I seem to bond with nerds and computer dorks, I need a nerd.
December 21,2003
Just when I mention that there are about 5 tapes that I would pay more than $5 for one of them appears on Ebay and goes for more than my car is has been appraised for ($385). The tape in question is The Velvet Underground and Nico. I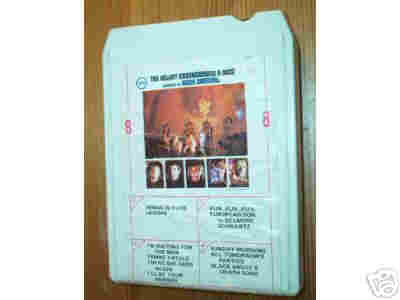 was a big Warhol buff in high school after I read his From A to B and Back Again book (Even though it was ghost written by Pat Hackett and Bob Colacello) and still have the copy around here, I bet IĎm one of the only people around who had read his Diaries from cover to cover twice. Anyway I found a copy of the LP back then at the cool record store that sold British imports under the Gem label and still listen to it regularly .
I would pay $5 for it but not much more, I would be a blast to own but it reminds me of this video rental store in Seattle (the name escapes me) but anyway the guy who owns this place is a passionate movie aficionado and has turned the globe around to find his rare and arcane collection. In order to protect his investment on certain tapes you're asked to put down a deposit on a few of them and a few are up to a grand for a night security deposit. I donít know if there any video tapes that go for this much but Iíd be too paranoid to put one of these Faberge eggs in my car (in the hot sun) and scared shitless to pop it in my player (Iíve had a few of these get eaten) then hope I could get it back to the store before its due. Part of the fun of 8 track tapes for me are the ruff and tumble aspect where if they break you can try to fix them and if not I toss them in the 8 track ward room where they go into coma and I decide if IĎll pull the plug on them or not. I could not in good conscience get one of these coveted high priced collectors tape unless my last name was Gates.
If anyone has these songs on 8 track email me, especially the German tunes

December 27, 2003
I just finished a Tiki link on this site, my other hobby.
December 29, 2003
With all the talk about the scandalous crooner Michael Jackson lately and that Jackson 5 tape staring at me on the 8 track shelf, how could I resist taking it on a cross town trip? Iíve never been a big fan of Michael when he did catchy dance music like on the Off The Wall (Now thatís a dated expression) album and thought Thriller was overrated pap music and bad fashion statements. But after 2 songs of the early Jackson 5 I canít stop tapping my feet and that tape been and endless loop in the player for the last 4 hours. Most bubble gum music has the shelf life of a Hostess Twinkie but I like the way it makes no demand on the listener and all the excessive hooks.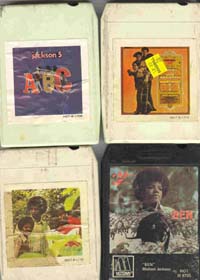 Michael says the reason he turned his house into an amusement park was he was forced to grow up fast and never had time to be a kid. Other than making himself whiter with plastic surgery he also does it to make him childlike. So Iím secretly hoping he gets back to his pubescent roots and starts making this type of fun music again. If any of his people are by chance reading this Iíll buy 5 copies of his Number One CD (Although from what Iíve heard it sounds like number 2). If he makes one more Jackson 5 album, or Jackson 6 if La Toya gets to sing, I'll even take Rebbie.
December 31, 2003
8 Track resolutions-
1. Fix that growing pile of broken spliced tapes I keep putting off
2. Deal with the Pioneer player with one working channel once and for all
3. Take out the Clash's London Calling cart out of the car.
4. Actually pull the tape out of the player an inch when not in use.
5. Use a tape holder instead of the back seat floor to hold tapes
6. Find a substitute for those giant Ampex rollers
7. Convert at least 2 people to Trackers
8. Find that Madonna cart with Borderline on it (anyone listening?).