August 8, 2004
Last week I did an ebay and got a Leonard Nimoy 8 track tape that was soaked in the tar of an oily pinch roller. Finding an unmelted pinch roller is getting harder to find in these parts but I had a sealed Akai blank tape and the sucker is a perfect match for Apex rollers. I have another one for the next tape. Opening one of those tapes is like safe cracking a bank vault and with a screw and a power drill I finally got it to spring and dumped the plastic toilet seat center that holds the tape in. Gosh these prototype tapes are a real bitch.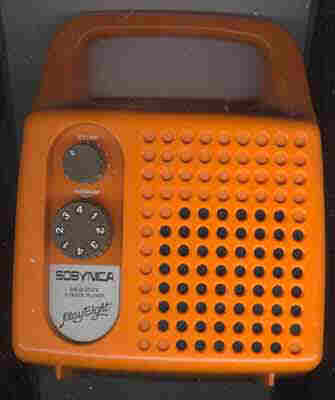 Why couldn't they put only Andy Williams on this brand then I'd never have to open a single cartridge. On a sillier note yesterday I hit a yard sale and make an offer on a portable player and watched a married couple argue over if it was "Retro Chic" or not. I've never heard that term before and when ever I hear it in the future will now know someone is trying to jack up a price. Still snagged it an a few generic tapes of songs of the 60's played in the "Tijuana Style". This term I have heard and it refers to upbeat music with a trumpet in the foreground, think of The Dating Game music in the 70s. So today I'm having a retro chic Tijuana morning, I wonder what people with CD's do on a Sunday?
August 14, 2004
I got my car stuck in a ditch last week and keep putting rocks and dirt under the tires to get enough traction to free it and in a desperate moment tossed a few tapes under them for leverage. It would have been a great entry if it worked but I ended up having a truck stud in 4 X 4 tow me out, the anguish. Also went to a sale with the worlds most expensive 8 tracks where they wanted $35 for a box of 10. I snubbed them and made a comment in a loud voice that I hope is in the sellers consciousness. Maybe the days of $.25 carts are over. I did get an Elvis quad that I promptly put on ebay since I'm not a quad person but I'm sure I could be one with a little effort at first the price of them put me off but I've noticed the demand is less and are getting more affordable.
August 24, 2004
I got a lesson in cart differences yesterday that left me retarded. It all started when I found this cool Panasonic purse player sans cord under a desk at an estate sale and replaced it an was taking it though the trials. I put in my favorite bad singer Bobby Goldsboro honey on a United Artists Sonic Spectrum tape and heard a motor run and nothing else. So I grabbed the Philips screwdriver to look for a busted belts and hopped it was something simple like that. The belt was tight and attached so being the all thumbs repairman was going to store it and maybe one day I'd find another like it that needed a belt, it was a sad moment. Today since I still had it plugged in by habit I put in Queen's Greatest Hits and like magic Freddy Mercury was belting out Bohemian Rhapsody, I was elated. Now for all you seasoned trackers see if you can figure out where I went wrong?
Give up?
Last Chance?
As I mentioned Bobby Goldsboro's honey is on the strange experimental Sonic Spectrum UA cart and if you look closely at this cart it's made to go in the player backwards so the back of the tape faces you as it's played. I guess the company was trying to set it apart from the others but for me it's yet another way that Bobby Goldsboro can irritate.
| | |
| --- | --- |
| | On the top it says "INSERT THIS SIDE UP" |
September 18, 2004
There are a lot of classical music tapes at Goodwill right now, I feel like a slob when I say that classical music was a phase for me and right now I think of it as disco music where it was fun then but now I can do without it and have no desire to hear it again other than an occasional sound bite on an action movie chase scene. When I think about it its been a while since I've found a mother load of classic rock tapes. I stumble on loads of country and easy listening. I don't knock them, it wasn't too long ago that all 8 tracks were considered crap and these music types may turn out to be the same. So when Dolly Parton's Greatest Hits becomes a holy grail I'll be ready. I am happy I can walk into a thrift store with 8 tracks and come out with one or two and be happy. It wasn't too long ago when I had to have them all and multi copies or even the most average take like Boz Scags Silk Degree..
October 7, 2004
This tape has been in my player a lot recently, once you get past the kitschy cover of a Latin woman holding two gold records with the words "Golden Memories" on them the back lists songs of the Beatles after they broke up
and went solo. The title is "The Beatles Today" and you get simulations of songs by John, Paul, George and Ringo. Some of the impersonations are dead on like Lennon's #9 Dream and some are the usual bad karaoke covers like Ringo's collection of 1950's covers (no wonder he faired the worst of the solo Beatles). I like this tape since unlike most Bootlegs this one spells out that it's fake and really is. I have a lot of carts that also boast this and are the original recordings. In this age of "everything over 20 years is a collectible" it can't be long before Beatles collectors go after the fakes. I hope to see this one with that phony Butcher Cover 8 track that pops up on line and goes for a tiddy sum.
October 15, 2004
There seems to be a thrift store arsonist in this town, the dumpster mentioned in the 2nd paragraph was right next to Serenity House thrift store and they were successful in torching St Vinnies. I think it maybe a Goodwill worker who is trying to boast business or someone who bought too many scratched Whipped Cream and Other Delights LPs. I'm looking forward to seeing more items at Goodwill or maybe the junk store I work at due to lack of venues. Right now they're looking for suspects and since I've visible at both of these shops and work at a competing store I might be called in for questioning. Luckily I have a good alibi.
This was published in Fridays paper-.
Suspicious fire causes heavy damage to PA thrift store
Port Angeles fire department officials are warning business owners to check their property for fire safety after two suspicious fires overnight, including one that caused heavy damage to a thrift store.
Port Angeles Fire Marshall Ken Dubic says the first fire was reported around 1am Thursday morning in the 500block of East 1st, where a dumpster was burning fiercely. The dumpster was destroyed, causing some damage to an adjacent handicapped ramp.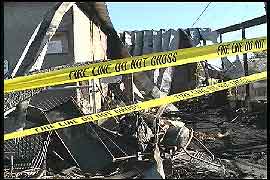 But then, just a few minutes later, a PAPD officer spotted a fire at the rear of the St Vincent de Paul Thrift Store in the alley off 8th Street. Dubic says this fire was much more serious and was not only burning in an enclosure used to collect donations, but had caught an adjacent garage on fire. Firefighters had problem access the blaze because of live power lines, but were eventually able to attack the fire, saving the garage and stopping it from spreading through the store building. Dubic says heat radiated inside the store, setting off a few sprinklers, and he says there's "no question" that's what kept the building from being completely destroyed. Still, there is heavy smoke damage through the store and most of the merchandise is lost.
October 29, 2004
Lots of badly made cheap players for sale around here lately like Sound Design and Sears but not much software to put in them. I found some 70's shlock rock but the guy wanted $1.50 each and UFO and Nazareth aren't that good. Also that smokey heap that I drive finally went to the big junk yard in the sky and I had to upgrade to a 87 Honda Prelude. I came close to getting a late 60s Dodge Dart with 8 track player but 6K is more than I want to spend. At first I was happy with the radio and cassette player but after a week of classic rock that never changes and program directors that think Jimmy Hendrix's only hit was Purple Haze I'm trying to find a way to put an 8 track player in without ripping the dashboard and having wires dangle every where. I'm concentrating on the cigarette lighter input but I have the feeling I'm going to go through a lot of fuses before it gets going.
Also I got a new job in the local education system cleaning class rooms and intentional messes made by students. I now realized school lunches don't improve when you grow up see lunch ladies in a new light.. I can't wait until I catch some student in the act of vandalizing a toilet and telling him he has a date at the principals office. Nothing like a state job where you surf the net most of the time while you wait for classes to get out and get $14 and hour to do it, finally bureaucracy works in my favor. After years of not voting to raise property taxes to fund schools I find myself on the other side of the fence.
November 7, 2004
I got a bunch of Penthouse magazines from the 70's this week and the beauty of them and Playboy is unlike hard news periodicals from that era like Time or Newsweek these are like a pop culture/ fad snap shot of the times. The downside is they are incredible dated and boast about rising star musicians like The Starland Vocal Band but a lot of trends are worth a second look. Today I found some 1974 eye candy that features a Weltron Space Helmet scattered among the the other relics back then this baby would set you back $169.95, suddenly $70 on ebay doesn't sound that bad.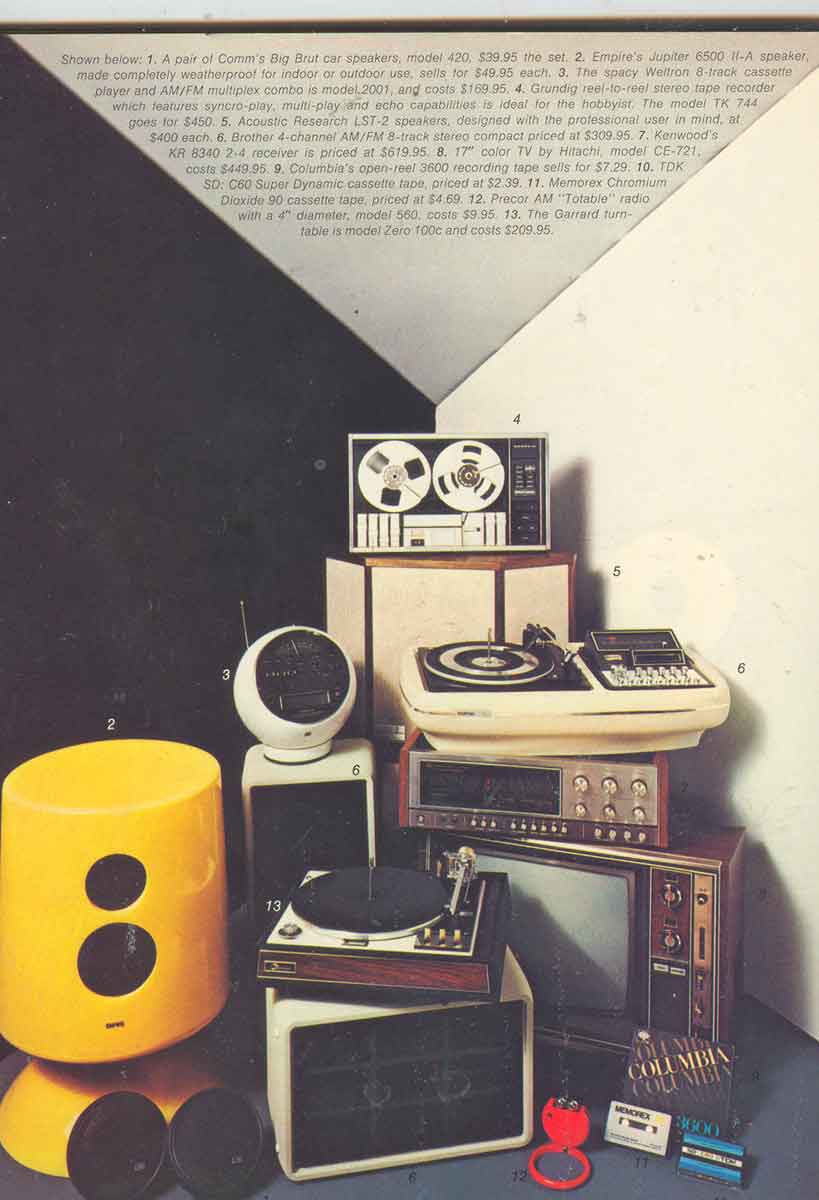 November 21, 2004
Ever since I got my sexy 1987 state of the art Honda Prelude last month with the cassette deck I've learned to respect 8 track tapes even more so. After a few weeks of FM radio that is fun for the first 2 weeks then turns into a race to see who can play the same song first and classic rock that play the same 2 Beatle songs over again (Kind of like going into a Baskin Robbins and ordering a Vanilla ice cream cone). I've decided to give the cassette deck a whirl and dragged out some Weird Al and some home made tapes. This also was entertaining at first with the lights dancing on the equalizer and making the speakers fade in the front and back of the car, rewind is a good invention that maybe 8 track tapes would have discovered if they didn't become "obsolete", then last week I noticed a few new dead spots on the cassettes that weren't there last week that faded in and out and even one that causes the deck to turn the tape around in mid song. The deck too needs to be cleaned almost weekly before everything starts sounding muffled. Part of me was hesitant to use this player at first since I thought I would ditch 8 tracks and start going after this more popular form, but it has only strengthen my loyalty the endless loop. Right now I'm trying to figure out a way to run something from the cigarette lighter to a hidden 8 track tape and start littering the floor with my fav carts and getting away from these planned obsolescence's cassettes that seem to self destruct in 60 secs.
November 30, 2004
Yesterday at Serenity Thrift Store I found another Weltron Space Helmet player with the familiar sticker that says "Radio works 8 Track Broken, $5.00". How could I say no? I cleaned it up and almost forgot how hard it is to really get into one of these players and change a belt so after unscrewing about 20 screws I was able to find the over stretched part and discovered I didn't have a replacement (anyone out there got any extras?) But now that it's all cleaned up and in it's glory I noticed the chrome mounting ring on top and wonder if anyone has every hung one of these on the ceiling and if this was a big deal when this player was in it's flower. I can only imagine that this player was fashioned after the JVC Videosphere black and white television set that has a chain on the top for hanging on ceilings but with it's base and and rubber suction cup on the bottom this player might look odd dangling in mid air and what a hassle it would be to put a tape in it with one hand. I now had 4 of these players and maybe on a cold night I'll suspend them all on fishing line and post a few pictures. I have 6 of Bos Scaggs' Silk Degree and it would be fun to synchronize them and put a player in all four corners of the room.
December 6, 2004
Not much on the home front today but what did strike me as unusual was in the bathroom of an estate sale were two elderly women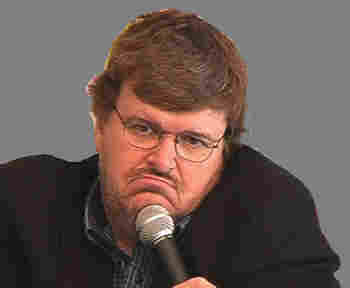 rummaging through the medicine cabinet looking for left over drugs. One of them was boasting about finding her blood pressure meds at an previous sale and how much she saved and the other one had a similar story a few weeks back and now she has enough for Christmas presents. I never thought I'd see the day when people have to get their prescriptions at yard sales, someone call Michael Moore.
January 10, 2005
When Christmas Eve and New Years Eve and the following days fall on Friday and Saturday all the yard and estate sales are on hold, then when a snow storm shuts everything down the following week you can understand why I haven't updated in a month. I'm having withdrawal and the only thing keeping me from having cabin fever is the VIP Edition of Showgirls. I like the idea of re-releasing bad movies with new packaging to cash in on their kitsch appeal. I hope Battleship Earth gets this treatment.
I'm not sure I'm at peace with the term "Blog" and not ready to refer to this journal as one. I've been doing this almost 5 years now and believe most things in this country are more fun when they appeal so a smaller group of people than to the mainstream. I'm sure I'd be preaching to the choir for all you 8 track collectors who pine for the old days of Salvation Armies and seeing anonymous listings on Usenet of people ridding themselves of tapes before ebay created an over inflated demand. I got the majority of my new wave library this way. Also I sort of miss the expression one peoples faces being faced with an Aquatron player with it's futuristic styling and now people see one and mutter the word "ebay?" end of conversation. So in an effort to stay obscure you are reading a journal.
January 29, 2005
Don't ask how it happened but last night I attended a mini screening of the 2003 version of the film The Texas Chainsaw Massacre with some friends. It wasn't much but a pale remake with contemporary special effects to make everything gooier than usual but about a third of the way through it a bunch of druggy teens in the 1970s are driving through Texas in a van and pick up a very disturbed hitchhiker who shortly takes her life with a bullet in the neck. The people in the room with me reeled in revulsion on this shot that was filmed through the vantage point of the hole in the women's neck. I also screamed out too but not for this reason but when the camera pulled out you could see a Weltron Space helmet player in the front seat. Keep an eye out for it. I hope it didn't get too much gore on it.
February 6, 2005
Has anyone used the new Google image finder yet? When you key in "Pope Sex" in the engine eventually you'll find a picture of me from this web site. Just paste this in the browser- http://images.google.com/images?q=pope+sex&hl=en&lr=&c2coff=1&safe=off&start=100&sa=N I wonder how how many people have accessed this site from that link. And you can insert any dirty or religious joke you want here, I like to think I'm in the running for his job.
February 19, 2005
Yesterday someone used the term "The Information Super Highway" and I felt like I was back in the 90's.
My other site about the bulldozed Tiki Hotel (Waikikian, Tahitian Lanai) and bar is turning into a small article in a Hawaiian newspaper. The writer wanted an interview with me but I had to decline since he wanted me to talk about how cool and happening it was in it's glory, but I only remember sitting in a fake hut among friends with a mai tai in hand listening to strains of Hapa Haole tunes and some how that didn't cave the with it appeal I think he was looking for. I know fellow blogger/ journal writer Swamp Rat was picked up for a VH1 special on 8 tracks and from what I read they made her into an 8 track trained monkey making her perform staged events for the camera in less than a dignified and true portrayal of herself and her relationship to cartridges. From what I read they had her sing and talk to her tapes and anyone who has read her blog or even read her musings on the Yahoo newsgroup knows that isn't the case. I hope she took the money and ran. I don't mind giving an accurate depiction but I won't deal with journalist who has an article written before it's been researched. I suppose that's called myth making but geez this place hasn't even been closed 10 years yet.
March 20, 2005
You know it's been a long time since I've seen any rock 8 track tapes anywhere. I could walk to Goodwill now and fined 3 bins full of easy listening, prerecorded symphonic music, or Readers Digest sets but I'd be hard pressed to find any thing harder than The Eagles. I hope this is a remnant of this winter funk since now I'm a lot more selective on the tapes I buy.
And on the lighter side it looks the 8 Track Mind zine founder Russ Forester has been immortalized by The Plaster Casters. He's in good company and one day I expect to see the collection for auction on Ebay, you know Jimmy Hendrix would be worth a fortune. You can read the whole sorted story here
April 9, 2005
I found this tape on someone's obscure for sale/ trade list that looked like it hadn't been updated in years. I'm not surprised anyone bought it but I am surprised I didn't grab in long ago. 101 Strings is know as a huge studio band that usually puts out phony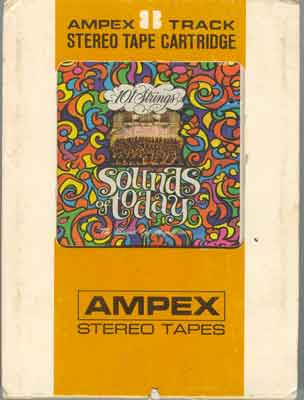 ethnic music to be played at squares dinner parties in the 60's. Most of it can be found in the record bins at thrift stores across the land and it usually is sold by the pound, anyone shelling out more than $.50 a record is overpaying. This one stands out because it uses a sitar in the mix and adds a few far out originals in the mix like Karma Sitar and Strings For Ravi. Other than that it has some great psychedelic covers like California Dreaming, Ode To Billy Joe and the seldom played Chicago I'm A Man. I love sitar rock and on 8 track it's about as rare as hen teeth. The only other 101 Strings tape that would send me in a tizzy would be Astro Sounds From Beyond the Year 2000 , who's got it?
April 28, 2005
I give up, after years of great 8 track scores there are nothing but crates of tapes around this peninsula filled with utter country crap and easy listening. I don't even salivate when I see a big pile at an estate sale because I know what to expect. Last week I got a bit of a chuckle seeing 5 bad tapes at a yard sale and one of them was titled Harmonic Gold. Does a worst genre of music than this exist? I wish I paid the quarter for it now so I could post the picture. I just maybe forced to join the ranks of ebay buyers and fight it out for the good stuff. I see a few choices out there now but I'll be quiet incase the two people who read this might has similar tastes. Records on the other hand have been amazing this week. Ronettes, Chiffons, Raindrops, I have a soft spot for early girl groups and that whole "wall of sound production". Most of this stuff was a little too early for 8 track but it works just the same.
May 4, 2005
This week I found a two decent tapes. The first one was Electric Ladyland by Jimmy Hendrix for me this is one of those tapes that was a soundtrack of their early teens. When I was in high school I use to travel in a one of those stereotypical 70s vans that was bigger than

some of the studio apts that I rented when I became a young adult. It wasn't mine but it was customized with a bed in the back, hideous shag carpeting, and for some reason this tape was constantly blaring on the stereo. I haven't heard it in nearly 20 years and after a few bars of "Rainydays" it was like going back in time. Then I became a sophomore and my taste went from classic rock to the other tape I got last Saturday. I've never intentionally bought a homemade tape but I made an exception for this poorly made Sex Pistols Bullocks cart. It was creepy having a part of my youth encapsulated at this one sale but my only grip was the Pistols tape was taped over an Isaac Hayes disco tape, I wonder what it sounds like?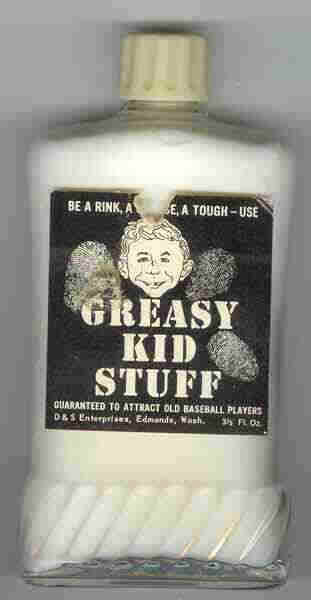 I also found this cool Alfred E Newman hair tonic, hee
May 15, 2005
THE SEVEN SEALS
| | |
| --- | --- |
| 1. Rev 6:1,2 | The white horse. The Antichrist comes forth. He has a bow, but no arrows are mentioned. A crown is given to him. He goes forth conquering and to conquer. |
| 2. Rev 6:3,4 | The red horse. War. That they should take peace from the earth. He has a great sword. |
| 3. Rev 6:5,6 | The black horse. Famine. A day's wages for a day's food. Hurt not the oil and the wine. |
| 4. Rev 6:7,8 | The pale horse. Death. One-fourth of the earth's population is killed. Hell followed with him. Kill with the sword, and with hunger, and with death, and with the beasts. |
| 5. Rev 6:9-11 | Martyrdom. They that were slain for the Word of God and for their testimony. They are given white robes. |
| 6. Rev 6:12-17 | Great earthquake. The sun black and moon as blood. The stars of heaven (angels) fell. Heaven departed as a scroll. Every mountain and island was moved. Multitudes hid. The great day of His wrath is come. |
| 7. Rev 8:1 | K-tel 8 track tape goes for over $50 on Ebay |
Now I've seen everything.